Blog
Bathroom Decorating Tips
When building a new home or renovating. Consider these tips for your next bathroom.
Try a wet room, where the shower area blends into the greater bathroom space, this will make the bathroom feel larger and you will have less glass to clean!  This is always a winner for me.  However do make sure that the drainage has been fully considered as you don't want to see water falling and pooling outside the shower area.
Builder, GJ Gardner Homes Tweed Heads, Colours Lee and Allan Design
A wall mounted cabinet will increase the sense of floor space and also "lighten" the visual bulk of the bathroom, therefore making the room appear larger.
Builder, GJ Gardner Homes Tweed Heads, Colours Lee and Allan Design
Why not hide the storage unit above your basin by using a wall mounted shaving cabinet that is recessed into the wall. You gain the added benefit of the mirrors which help to reflect light and storage that is at eye level and easily accessible.
Ceiling mounted showers give a heighted felling of space. They can however be some what impractical for women. Therefore why not consider a Twin Shower, you gain the benefit of a dual shower, height and a touch of opulence at the same time.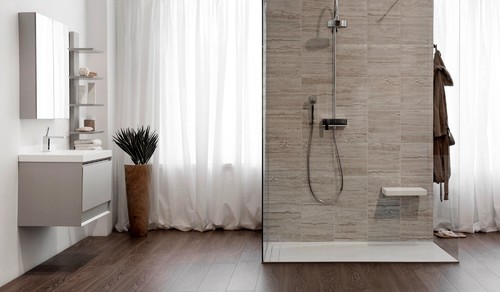 Install a niche (or two) in your bathroom.  They are a great way to store your favourite bathroom products and also add a little wow factor to the space.  Try a long horizontal niche running the full length of your shower wall or above your bath.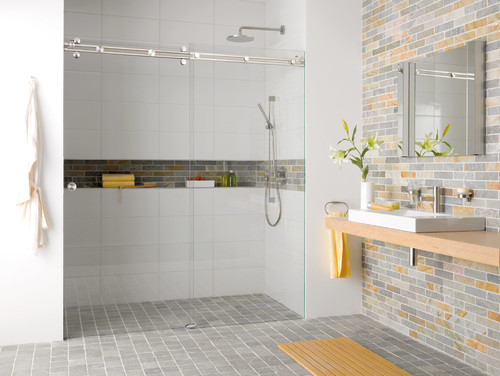 Finally, your bathroom should not only be functional but should also be a space to retreat from the world and become a bit of a pamper zone.
Looking for a Colour Consultant?
Colours
play a pivotal role in our lives and is arguably the most influential element in design.  When we consider the ingredients required to create successful design it becomes apparent that without colour, design is incomplete.  Lee and allan design are experts in creating just the right colour palette for your space.  We work alongside you, to make sure that your home environment reflects who you are.  Whether that is creating a warm cozy ambient room or a space with bold bright impact.
What does a colour consultant do?
A colour consultant will work with you to determine your colour selections for paint, both internally and externally.  Colour consultants can also assist you in selecting product colours for all related building materials on your project, such as roofing, stone work and interior materials like the kitchen and bathroom cabinetry, fixtures and fittings and flooring.  As all materials, natural and man-made have colour, therefore everything is subject to a color decision to ensure your colour scheme complements both your lifestyle and the design of your home.  So if your building a new home, renovating or just wanting refresh a room we can help you.  Lee and Allan Design will provide you with a colour schedule, so that all you need to do is shop.  This will make sure that the process is effortless and enjoyable for you.
How much does it cost?
Colour Consultants are a design professional and often have skills across multiple areas of the design industry therefore the scope of the service will affect the fee, however at Lee and Allan Design the fee is either an hourly rate of $110.00 or negotiated for larger projects.  Lee and Allan Design is located in the heart of Broadbeach, on the Gold Coast QLD and services from Northern NSW to Brisbane.
Custom Design
Next time you buy fabric, wallpaper or home furnishings, why not consider personalising it by having it custom made with lee and allan design.
Custom design gives you creative control. Specifying custom fabrics, rugs, home furnishings and wallpaper enables the ability to tailor designs to your specific needs, such as colour, scale of the designs and the ability to select from a range of fabrics.  Some of the fabrics include natural fibres like cotton, cotton voile, linen or organic blends and other specialist fabric for outdoors, ensuring water, mould and mildew resistance.
Custom surface design services include original concept development or customisation of the lee & allan design fabric collection including colour ways. With custom fabric design and low minimums, we can offer you unique fabric that enhances your style and space.
To find out more about our design solutions and pricing please contact us at our Gold Coast office on 0447189843 or info@leeandallan.com.au.
Who says boys can't have pink!
When it came to updating my 15 year old son's bedroom, I wanted to stay clear of traditional 'boys' colours and themes.  Therefore to modernise this space I decided to create some bold simplistic art with water colour crayons.  This art work was then digitally printed onto fabric and sewn into custom cushions.
Team these cushions with classic black and white chevron bedding, an oversized Lucci decorative globe from beacon lighting and some colourful accessories and you have your self a contemporary teen bedroom.
The only problem now is my 10 year old son wants his bedroom made over.  I'd better start thinking.
Your original art work can also be utilised on soft furnishings, so why not contact us at lee and allan design for further information.